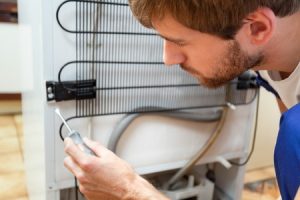 We get various calls every day saying;
• The refrigerator is not working
• My fridge is not cooking as it needs to
• The doors of the refrigerator will not close properly no matter how hard I try
• There is some troubling sound originating from my refrigerator
• The thermostat in our fridge has stopped working
And a lot more alarming messages.
When you have an issue with your refrigerator, no matter how little it is, it can negatively impact the food you have stocked in it; thus you may end up counting losses or going hungry. We know this, and this is why we are devoted to providing swift, reliable, and highly budget-friendly fridge repair services.
The primary causes of fridge damage
Here are some of the most typical causes of fridge issues that we have figured out.
1. Thermostat failure- when the thermostat or the cold control stops working, it triggers inadequacy in cooling; hence the normal functioning of the appliance will be highly compromised.
2. Overload- your fridge has a specific capacity. If you stock foods beyond this capacity, the compressor will not entirely run; hence causing failure of the entire system.
3. Drainage stoppage- when you see water pooling at the bottom of your refrigerator, the most common offender is a drain stoppage. This is an issue that our technicians can solve in minutes.
4. Failure of defrost heating units
5. Relay failure- when this takes place, the compressor will partly or entirely stop working, and cooling will not happen.
What we can do
To us, it doesn't matter what has caused the problem with your fridge. We are armed with the latest technology that helps us spot the cause of the problem in your appliance, identify the variety of repair alternatives readily available, and pick one that fits your needs and your budget plan.
The reason why we have won numerous awards throughout the years is that our services are total, and we will never refer you to another expert because an issue has ended up being too complex for us to fix. If other service providers have told you that the problem with your fridge is too huge to address, bring it to us, and we shall do what we can to fix it.
We advise you when to replace
Sometimes, the appliances in our premises get damaged, and it becomes challenging to fix them. Here are some instances where we will recommend you to replace your refrigerator;
• When your fridge is too old, and constantly present issues
• When you have to handle the exact same issue from time to time
• when the repair expense will be more than the expense of replacement (though this is highly unlikely).
We are a fridge repair professional who takes customer interests before our own. Therefore, we shall not take your refrigerator for a week, and try to fix it if the problem can not be repaired. Keep in mind, we will not charge you for a service we have not provided. For that reason, when we recommend you to replace, we will not charge you a dime. The guidance comes free of charge!
Affordability is key.
A fridge is one appliance that gets defective at its own time. It does not provide you a caution. You awaken in the morning to get something for breakfast, and when you open it, you are invited by a foul smell. We know that you don't have money you had actually reserved for fridge repair, and this is the reason that we present the most competitive pricing strategy in the market.
When we evaluate your issue, we will discuss it with you. Given that we have a range of repair options for each problem, we will have the ability to provide you with a free estimate that complies with your spending plan.
Trying to find a fridge repair specialist who will offer you with extremely tailored services? Get your phone and call us, or request a callback. We shall provide help in less than 24 hours.